New Moon Visions Place Branding and Marketing
In the News

As seen on the front page of the Detroit Free Press:
Suburbs try to brush up image
Facing tough competition, poor economy, downtowns get help luring more shoppers
December 26, 2007
BY CECIL ANGEL and GINA DAMRON
FREE PRESS STAFF WRITERS
They could see it in the drop in foot traffic on Main Street, in the dip in sales and in the rise of vacant stores and offices. The impact of the state's poor economy — coupled with fierce competition from malls, big box stores and large shopping centers in other cities — had many business owners worried. Downtown Northville was hurting, and the city's Downtown Development Authority knew it had to do something. So officials joined a growing number of downtowns across metro Detroit and the nation and hired a public relations firm to develop a marketing plan. Now, a year later, Northville has increased foot traffic, drawn new businesses and lifted the city's profile with a broad campaign that includes its own slogan: "Timeless … with a twist." The campaign includes radio and print ads that urge people to spend the holidays in downtown Northville. "We knew we had to do more," said Lori Ward, executive director of the Northville DDA. "I wish we had started this relationship with the public relations and marketing firm years ago. "For big cities like New York and Las Vegas, where tourism and conventions are a vital part of the economy, branding and marketing are nothing new. But for suburban Detroit communities, the realization of the need for more exposure is just gaining roots. In Birmingham, specialty publications focus on getting shoppers to visit shops and restaurants downtown. Plymouth budgeted $150,000 for marketing during this fiscal year through its DDA and plans to increase that amount by $4,000 next fiscal year.
Lathrup Village, a community of only 4,000 residents in Oakland County, has turned to its own residents for ideas on how to market itself. And in Westland, the city sends out a steady stream of news releases highlighting city events and improvements. "I guess it's like a business — you have to market yourself," said Courtney Conover, Westland's deputy mayor. Steve Chandler, president of the Nashville, Tenn.-based North Star Destination Strategies, agreed. His company has clients in 25 states, including Michigan. "What people are seeing is everyone has a responsibility in marketing themselves," said Chandler, who specializes in helping cities develop marketing plans. "It's such a trend, that's all we do. "The company's clients include the Plymouth Downtown Development Authority. North Star helped Plymouth develop its marketing brand: "Not Just a Walk in the Park." The city offers 130 events throughout the year, including Art in the Park and the Ice Sculpture Spectacular — all crucial to downtown businesses. "Events are really a big part of what we do," City Manager Paul Sincock said. "There's always something going on in Plymouth." John Callaghan, 60, of Brighton is a co-owner of Sean O'Callaghan's restaurant and bar in downtown Plymouth.
"The events in town are a real shot in the arm," he said, adding that the DDA's $150,000 marketing budget is "money well spent."
Not to be glossed over
In Birmingham, marketers use special mailings to attract shoppers from not only the city but from Bloomfield Township, Franklin and parts of West Bloomfield and Troy. The Birmingham Principal Shopping District also produces the glossy Birmingham Magazine, which is primarily advertising and a shopping map that lists businesses and where to find them. The district promotes special events, such as band night and salon and spa days. "Small towns are becoming more marketing savvy," John Heiney, executive director for the Birmingham district, said of the specialized publications. Heiney said he has two part-timers, an intern and a $1-million budget, a third of which is spent on marketing. "The shoppers have so many options," Heiney said. "Communities have to show why they're different — why it's worth the trip." One such distinct store is Revive, 383 Hamilton Row in Birmingham, which sells high-end street wear and sneakers on consignment. "Coming from New York, Birmingham was the closest you get to a SoHo other than downtown Detroit," said 24-year-old owner Aaron Cohen. He said he'd like to see the Birmingham shopping district focus its marketing efforts on age groups who have money to spend, particularly younger people with so-called new money.
Marketing begins at home
The tiny Lathrup Village doesn't have the big bucks other communities have, but it does have an identity problem. "I called a home-repair service in Farmington Hills and the person that took the message from me said, 'I've never heard of Lathrup Village,' " said Councilman Allen Weaks. "That's really not unusual." Michael Madigan, incoming president of the Lathrup Village Community Foundation, said the community is too often overshadowed by its larger neighbor, Southfield. The village, he said, needs to get out the word that it is a diverse, family-friendly place. To do that, the city formed a committee of residents and village leaders to study ways Lathrup can promote itself to outsiders. The goal is to give it an image, to show off its beautiful brick homes and attract new homeowners. At its first meeting late last month, the committee talked about ways to promote the city, including revamping the city's Web site, reaching out to businesses interested in relocating, and by publicizing the schools to parents with school-age children. Whichever direction the village takes, Weaks said, the bottom line is that the village needs to be more proactive about promoting itself. The committee's next meeting is Jan. 10.
Proof it works
Before the marketing campaign got under way in Northville, residents were surveyed about what they like best about their community. The Northville DDA hired Kim Rivera of New Moon Visions, a graphic design and advertising company, and Jeanne Micallef of IMJ Communications to develop a marketing plan for the community. Their "Timeless … with a twist" slogan focuses on the city's blend of Victorian charm and family friendliness. The logo is based on a clock in the heart of downtown. Ward has said Northville DDA officials can already see the benefits from having "one unified message." Eight businesses have applied for licenses and more people are downtown since the campaign kicked off. Greg Presley, the DDA's chairman, said the marketing budget is expected to increase next year from $30,000 to $126,000 because of the success. Rivera credits community input and participation with helping the cause. "You just really have to listen and see what's going to appeal to your target audience," she said.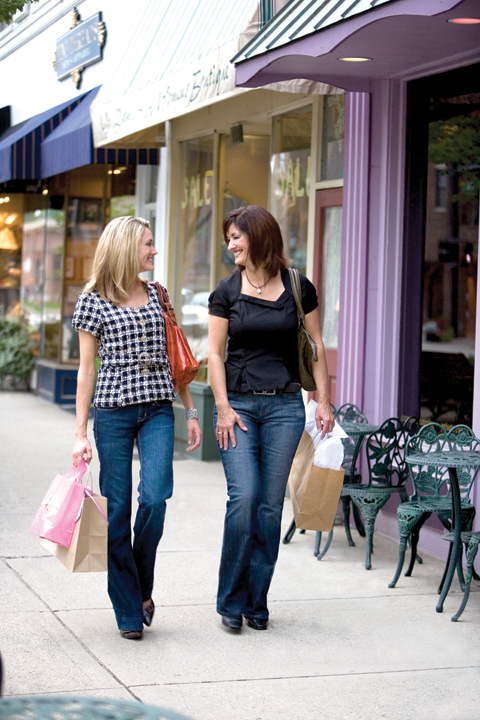 "We knew we had to do more. I wish we had started this relationship with the public relations and marketing firm years ago."